East Yorkshire Portrait Photographer | Award-Winning Photography |Portrait Photographers Hull
If you want to have beautiful photographs of yourself, loved ones or your pets, hiring a professional photographer will help you get the best result.
As Ray & Julie Photography, we've written this guide from our perspective as an experienced East Yorkshire and Hull Portrait Photography. This article will outline the benefits of working with a professional photographer in a studio to capture stunning images that you can look back on for years to come.
What is a Studio Photo Shoot?
Going to a studio portrait photography session allows you to work with a portrait photographer to have the perfect photo session to produce portraits for almost any purpose. Our studio in Beverley, East Yorkshire, is set up to create a relaxed and fun experience. We use the very best equipment and our skills as photographers to capture each unique portrait. Photoshoots like this use backdrops, lighting and a setting to capture images that are impossible to do on a phone or compact camera.
Why Book A Photo Shoot?
There are a number of reasons that you should consider booking a photoshoot. Here are five things to remember about why a portrait photo session is perfect for newborns, maternity, children, family, pet portraits, professional portraits and much more.
1) Get Timeless Photos of Yourself, Family and Pets
One good reason to meet with a professional photographer is to make sure you get annual photoshoots of your kids, pets and self. Anyone who wants to work on branding themselves should have an updated portrait. Those who want to create a legacy of images show the family's growth and changes over time. Studio photography makes it simpler to get those perfect photos that capture each of the people's unique qualities in the session without having to go on location. These pictures last a lifetime, whether you hang them on a wall or another area.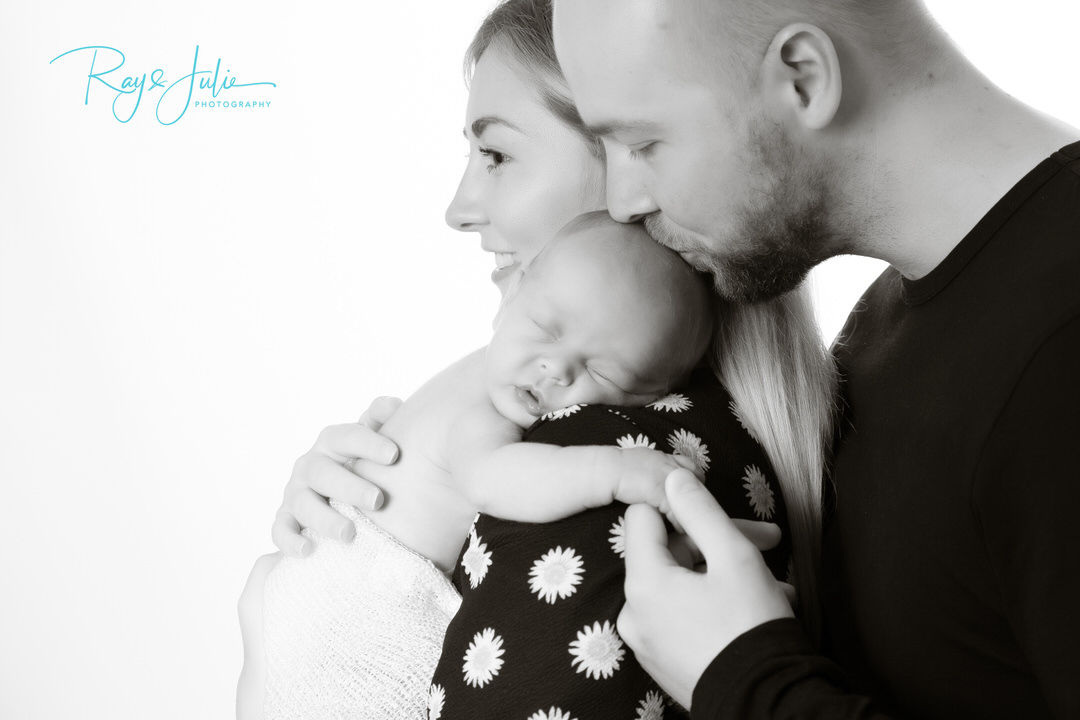 2) Enjoy a Relaxing, Fun Experience In the Studio
The first reason to go to a studio for a portrait photography session is to enjoy a relaxing, fun experience guided by an experienced photographer.
It is reassuring to book a portrait photography session in a studio setting that will not be affected by outside factors such as the light and weather. Everything is taken care of in a studio. You don't have to worry about rushing because of fading light outside or rescheduling because of rain or harsh weather conditions.
The experience in the studio works for families with small children or pets. It's also advantageous for business professionals who need to nip in for a quick update of their professional portrait in our Beverley town center studios.
In the studio, clients have access to a space to change, do their makeup, and get ready for their photograph, so everything is just right.
Ray and Julie are superb photographers and lovely people. They have photographed our wedding day and our son and the images they capture are so good it is nearly impossible to choose. For someone like me who is not at ease in front of the camera they make you feel so comfortable and relaxed that it makes the whole experience enjoyable. We would never use anyone else.

Samantha Walker
3) Take Guided Photos With Professional Knowledge on Poses and Styles
Another benefit of working with professional award-winning photographers is that they know how to pose a subject. It will save you time and energy during your session by actively posing you in a way that makes you look your best. Professional photographers pay attention to details like how a person's hair falls or the lighting angle on their face, taking breaks to adjust those minute details as needed. They'll make sure children are looking at the camera or the exact location rather than each other if that's the photograph's goal.
They care about making you look your best, so they do all they can to give you information on poses and styles that work best in photographs like you want and need.
4) Work With an Award-Winning Portrait Photographer
Working with an award-winning portrait photographer means that you'll have an experience like no other thanks to their expertise and understanding of light, focus and design. In a way, it's a customised experience where you get to work in partnership with someone who has mastered their trade. The result is a dazzling photo of yourself, a family photo that stands out from the rest or pictures that show off your loved ones in their best light.
5) Choose From High-Quality Frames, Prints and Canvases
Finally, when you go to a studio portrait photography session, you'll have the opportunity to opt for high-quality frames, prints and canvases of those photos. Update your family portrait every year, or stop in one day to take a professional picture. You can then order high-quality prints and the frames that make those prints look fantastic on your wall.
Suppose you need digital portraiture for social media. In that case, we can also give you more information about getting the correct resolution to post your image online.
Do you Want to Know More?
These are five reasons to have a studio portrait photography session. If you'd like to see more of our work please visit our portrait gallery.
Work with an award-winning portrait photographer and Julie and I at Ray & Julie Photography. Contact us today to set up a portrait photography session and for more information.