The Beverley Barn is a uniquely beautiful wedding venue situated in the East Yorkshire town of Beverley near Hull. Delivering a truly unforgettable wedding experience for Amy and Matthew.
Below are just a very small selection of the memories we captured for our couple.
The day started with a bit of a difference, we met Matthew and a few of the guests at Caveman Barbershop. Whilst getting a Turkish Wet Shave prior to getting ready. The father of the bride "Greg" was wrapped in warm towels after his shave when we started photographing, once these were removed we both realised we served together in Bosnia and Northern Ireland. We were in the same regiment over 20 years ago! Small world…
Time to go see the bride
After the short trip to Leconfield, we were welcomed in by Jane mother of the bride. Amy looked truly radiant from the moment we set eyes on her. Everyone was very organised and well prepared (like a military operation). Once everyone was ready it was time for Greg to see his beautiful daughter for the first time in her wedding dress, all we can say there was not a dry eye in the house.
Let's go to The Beverley Barn
It was a cold winter day, but at least no rain. When we arrived at The Beverley Barn we were immediately welcomed by Phil and the staff. Matthew arrived looking very smart in his Black Label Richard Smith Bespoke suit, with a very nice touch of his and Amy's names and their wedding date embroidered into the inside of his jacket.
Time to get ready for the ceremony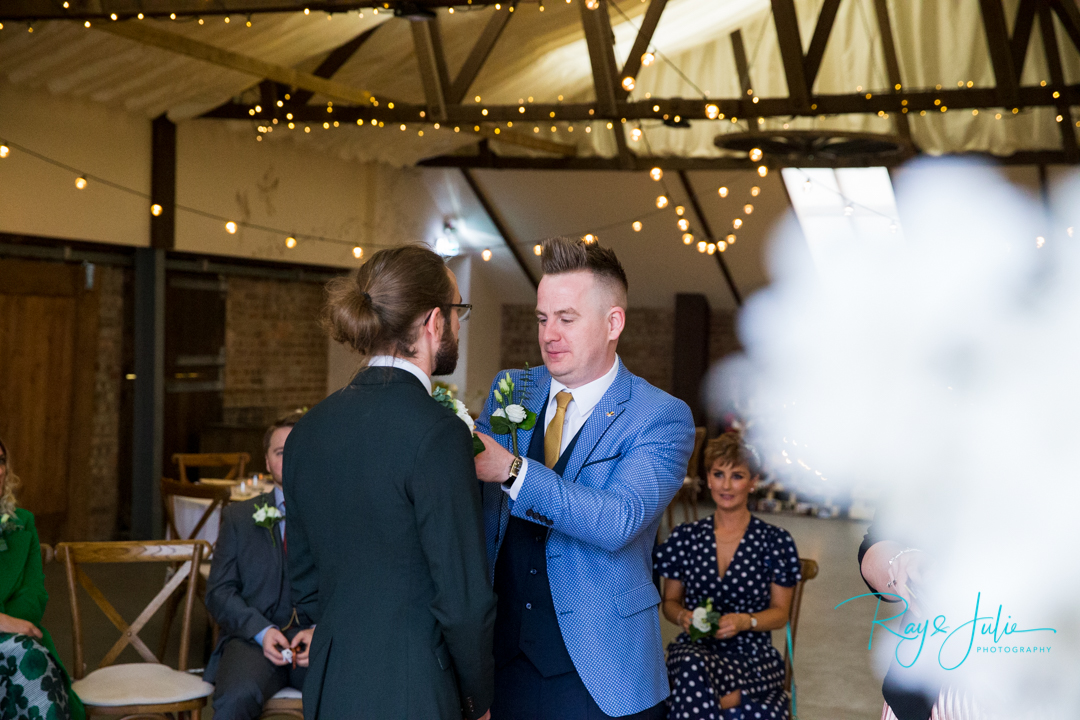 Amy arrives at The Beverley Barn in her white carriage with her dad.
Here comes the bride
Love the expression on Matthew's face, this image was captured seconds after Amy and her dad entered the room and Matthew realised she was walking towards him to be his wife.
Julie and I love this moment where Amy is walking down to Matthew with her dad, and her look to her dad before he gives her away says it all. We always love looking for moments like this when capturing our couple's memories. Wedding photography for us is all about capturing the connections and emotions between people, as unobtrusively as possible. Don't get us wrong, we love every moment of weddings including spontaneous and creative portraits. But these moments of raw emotion are what it's all about.
The ceremony and vows
Amy and Matthew's ceremony was witnessed by close family and friends.
Someone is very happy.
We think you will all agree they both look very stylish. Amy looks stunning in her dress from Wed to be…
Formal or not so formal?
Beverley Westwood
As we had time before the rest of the guests arrived, Amy and Matthew wanted a few images on the Beverley Westwood (so off we went).
Back to The Beverley Barn
Time to return back to the barn, now all the guests had arrived let the reception begin. Time for fun, food, tears, and laughter.
In the box!
Yes that's the groom in a suitcase, with his mother in law sat on top of it 😂
First dance as Mr & Mrs
We loved every minute of capturing Amy and Matthew's wedding day. Thanks to all family, friends, and staff at The Beverley Barn for making us feel so welcome. Please remember this is just a sneak peek, we have lots more to share with our couple, friends and family.
CONGRATULATIONS MR & MRS RICE
Could we capture your memories?
Wedding Suppliers