GRANTLEY HALL WEDDINGS | YORKSHIRE WEDDING PHOTOGRAPHERS | RAY AND JULIE PHOTOGRAPHY | YORKSHIRE WEDDING PHOTOGRAPHY
Welcome to Janette and Bernard's sneak peeks from their wedding captured at the stunning Grantley Hall.
This is just a very small selection of what we captured for them.
Before every couple's big day you'll sit down with Ray & Julie Photography, as your Yorkshire Wedding Photographers, to discuss what you do like or more importantly don't like when it comes to your photographs. After all, we're there to photograph and capture your day your way! We also discuss your expectations. We will make sure you receive amazing photographs in the time that were with you. We also offer a complimentary engagement shoot so you get used to being photographed and we all get to know each other much better which will ensure we get better photographs as you'll both be much more relaxed. Janette and Bernard were apprehensive at first about being photographed (as are most couples). After their engagement shoot, they were more relaxed and trusted us as professional award-winning photographers to capture their memories.
Grantley Hall
What can we say… Grantley Hall is a stunning venue and we can see why it was voted one of the best hotels in the world. From the moment you're welcomed at the main entrance and drive down the meandering road, your anticipation of what awaits is heightened. Finally, Grantley Hall is in front of you and it never disappoints. Janette and Bernard chose a perfect venue to celebrate their wedding day.
On Arrival at Grantley Hall
We always arrive early at every wedding we attend, if the venue is over a couple of hours from our studio based in Beverley East Yorkshire we'll usually find local accommodation nearby to stay at. On arrival, we were greeted by Bernard and some of the wedding party who had stayed the evening before they were admiring some of the stunning cars parked outside the front of Grantley for a supercar event. Everything from Ferrari's to Mclaren's so our car was relegated to the back car park this time lol.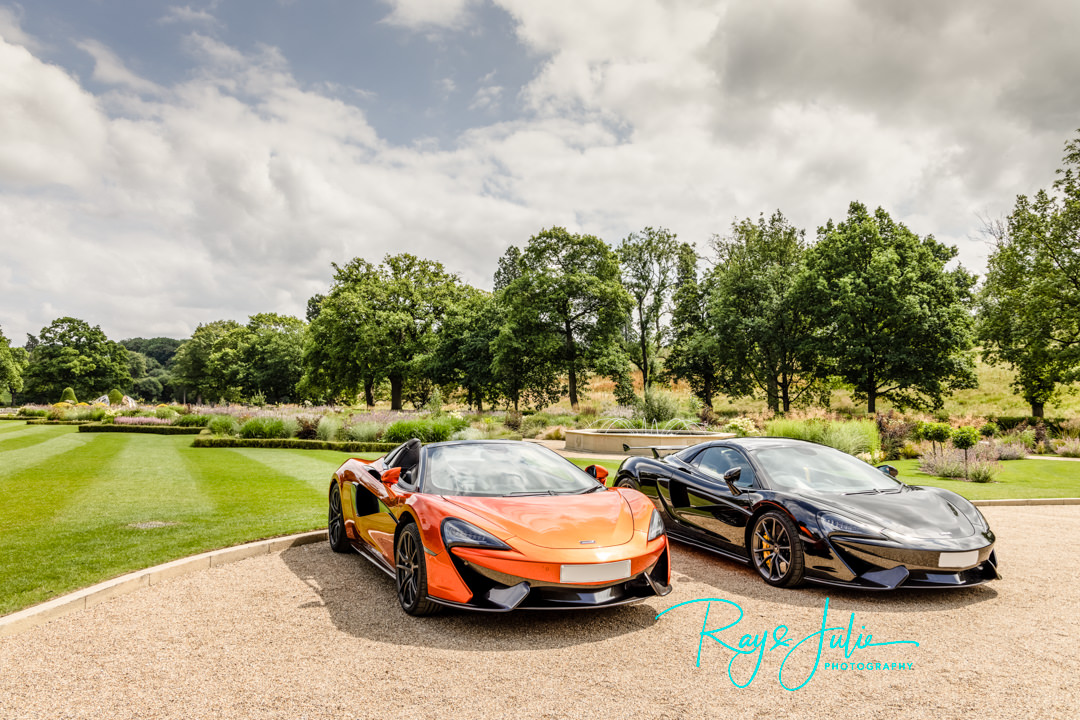 Well one of us could have stayed longer with the groom looking at these amazing cars! However, we had a bride to go and see for bridal preparation in the Presidential Suite in Grantley Hall.
Grantley Hall Presidential Suite
The Presidential Suite is located in the Fountain Wing accessed from the rooftop atrium which is open and welcoming, the atrium gives you a totally different perspective of the sky. On arrival to this amazing suite, you enter the private hallway complete with a guest washroom on your left. From the hallway, you step into a large lounge with a C Bechstein baby grand piano, spacious seating area with a large dining space. The lounge offers far-reaching views of the gardens and River Skell. The bedroom has extensive wardrobe storage space and views of the gardens. The bathroom, clad in Italian marble boasts a 4 piece bathroom suite, double vanity unit and walk-in shower. The Presidential Suite comes complete with air conditioning and a modern state of the art TV and audio system.
Bridal Preparation
Janette was having her make-up done by Naomi Stone MUA on our arrival, and Janette's first question was would we like anything to eat or drink? She's so thoughtful and even on her wedding morning she was thinking of others first. We confirmed she had all her "dittery bits" [as we call them] together e.g. shoes, jewellery, flowers etc so we could begin photographing. We discuss this with all our couples during your consultation, then it's one thing less to think about, most brides nominate a bridesmaid to sort this out prior to our arrival.
All Janette and Bernard's flowers were from The Rarified for the wedding day.
When is a wedding shoe not a wedding shoe? When it is a Jimmy Choo!
We have worked with Naomi before and she is very relaxed but professional, Naomi has been featured in magazines like Yorkshire Life, Yorkshire Living, Harrogate Living to mention a few. We love working with her as she's very understanding when it comes to what we want to achieve from a photographic perspective.
Once Janette's make-up was compleated she moved on to having her hair done. This was done by the very talented DawnWalsh of Dawn Walsh Weddings. The last time we met Dawn was at the first-ever Grantley Hall preferred suppliers event, so it was great to catch up again. Dawn's work now sees her travelling throughout the UK and Internationally. She is a freelance session stylist, working in TV, theatre, weddings, photography, and awards ceremonies fashion shows and events. Her most recent creation was for Emma Williams at the Olivier Awards in London which saw her wearing a glamorous yet traditional pin-up on the red carpet. Dawn worked her magic and Janette's hair looked great.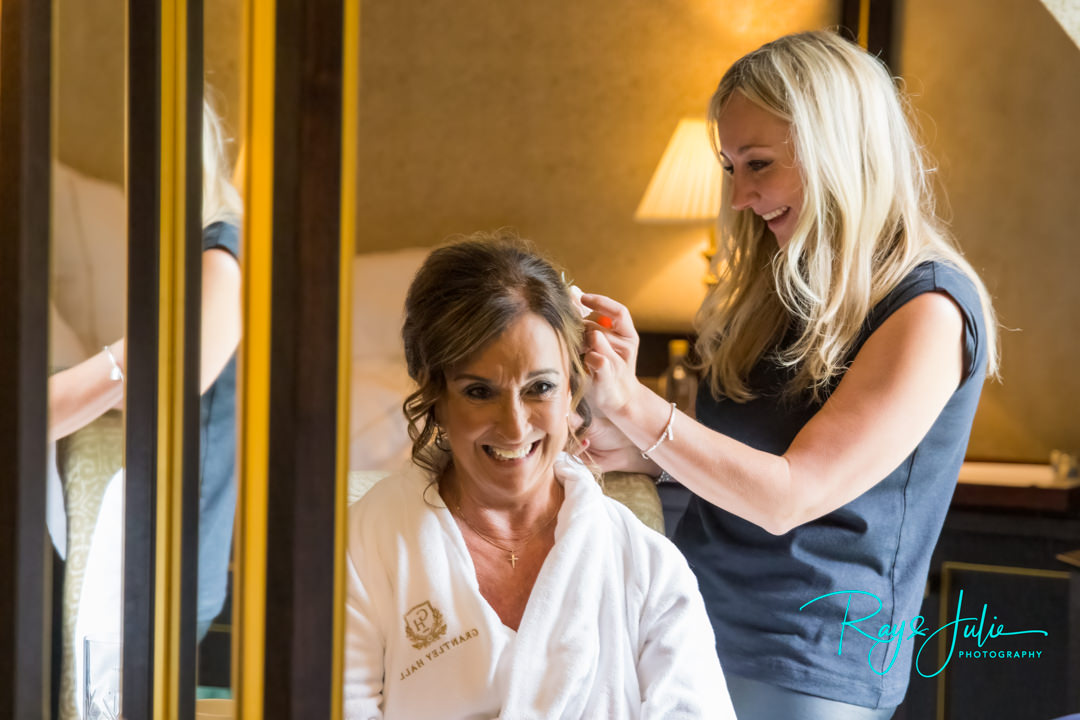 The Wedding Dress
Janette was super excited to show us her dress, we could see why as it was a silk chiffon Haute Couture Anita Masserella dress. It looked beautiful but looked absolutely stunning once Janette put it on. Anita came into the Presidential Suite once it was time to get Janette into her dress, in fact, it's Anita's hands doing up the back of the dress.
Once in her dress Janette's daughter had a reveal and gave her mum a big hug, we love capturing these special moments, Naomi and Dawn were on standby for a last-minute make-up and hair touch up.
Lets Get Married at Grantley Hall
Janette looked beautiful and was ready to get married. It would be remiss of us at this stage not to mention someone that has been working so hard behind the scenes making everything run smoothly. That person is Michelle Taylor who was Janette's wedding coordinator and works closely with Grantley Hall. Michelle's business is called Taylored Elegance, she kept us in the loop with everything that was happening on the day with great correspondence.
It would be rude of us not to get a few more photographs on the way to the ceremony!
The Rings
Whilst in the Presidential suite we kept thinking about how could we utilise the shinny surface of the baby piano? With a recently popped cork from the Moët & Chandon champagne, this is what we achieved of our couples rings from Christopher James in Manchester.
The Ceremony
Janette and Bernard had opted for an outdoor wedding ceremony, and the weather gods were in our favour. If the day could get any more special the registrar informed us this was her first wedding (but you would have never guessed) Well done Gaynor. Whilst the guest were all seated and Benard was waiting, Todd Edwards was singing and playing his guitar.
Here comes the bride…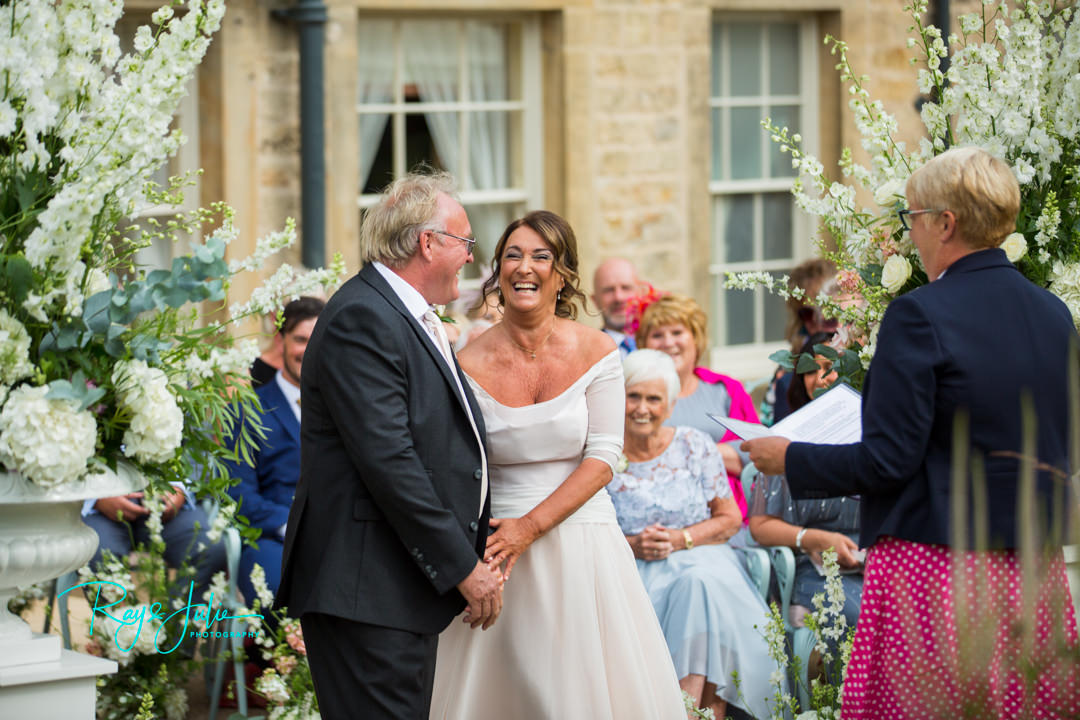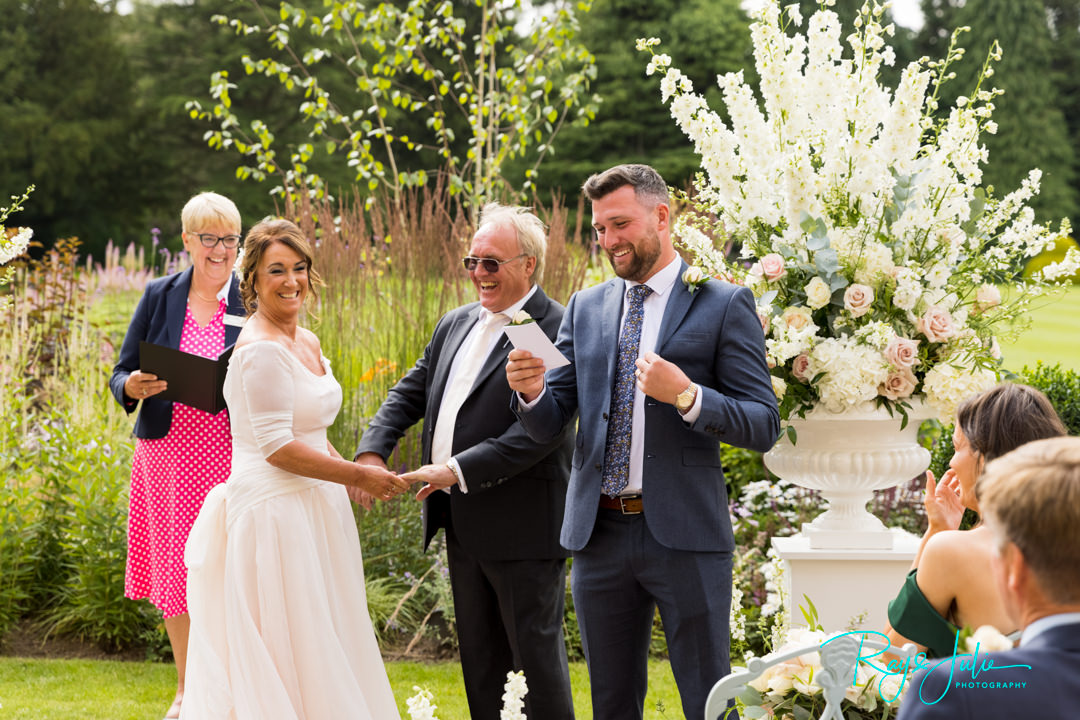 The Orchard at Grantley Hall
After the wedding ceremony, Janette and Bernard had a little break and had drinks and canapes in The Orchard. It was a chance for family and guests to congratulate the new Mr and Mrs, thinking of everything they also had Darren Robinson Magician entertaining everyone with his magic. Then we went to the group photographs.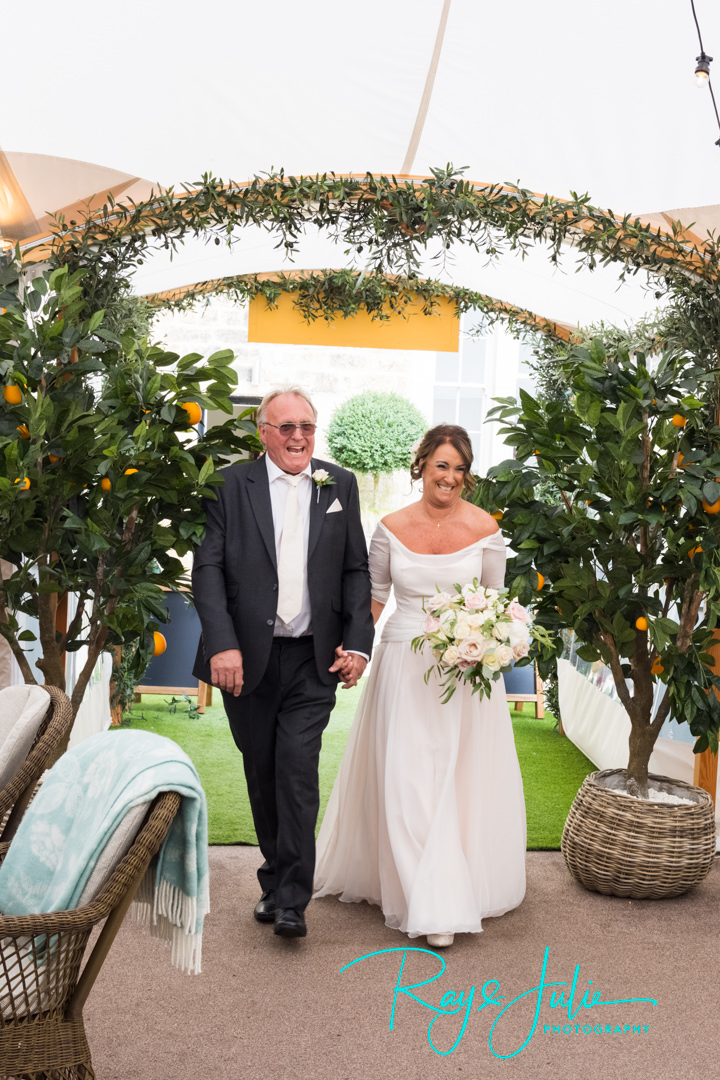 Take note of the waiter in the background…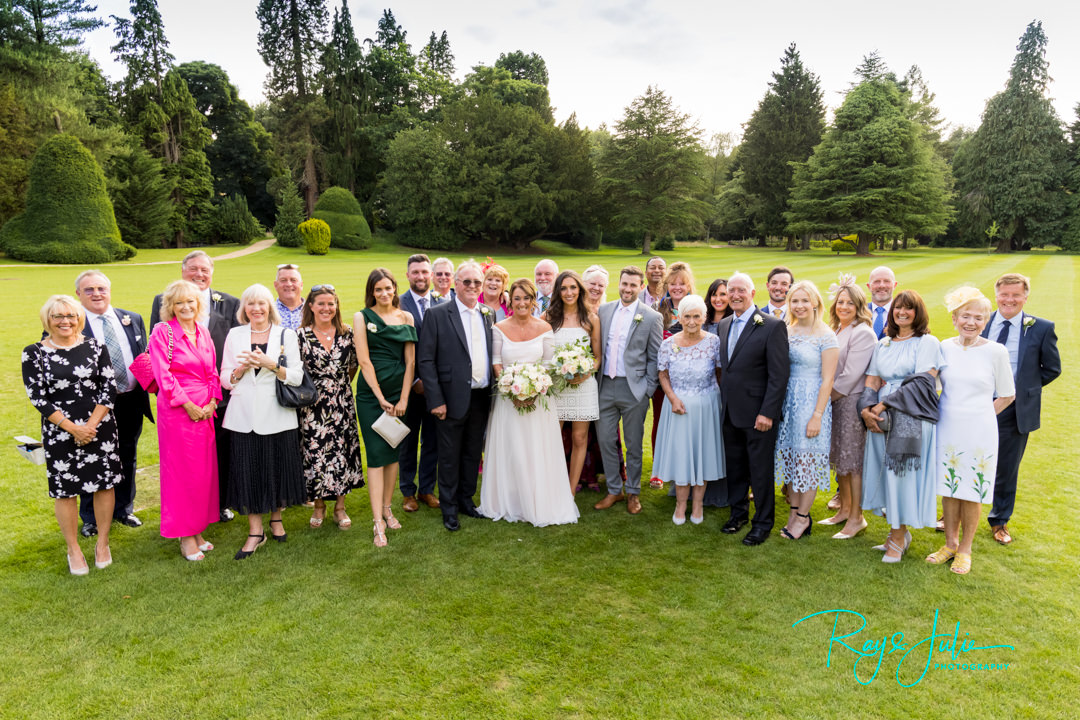 Wedding Couple Portraits
After a little break, we took Janette and Bernard off by ourselves for a few portraits around the stunning grounds.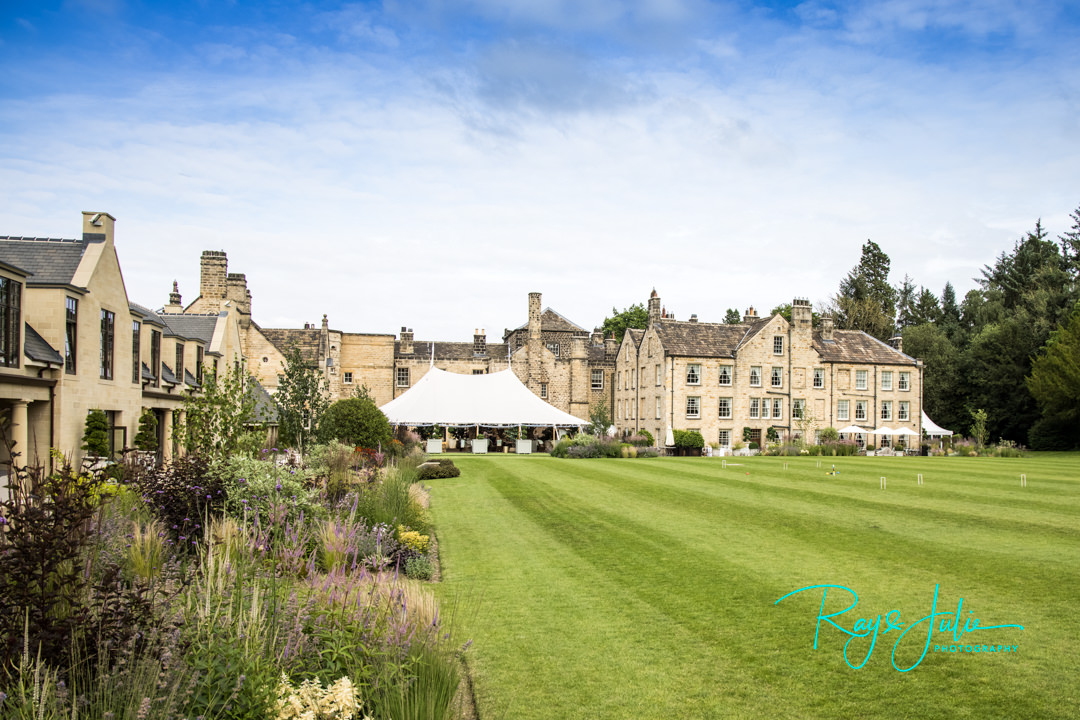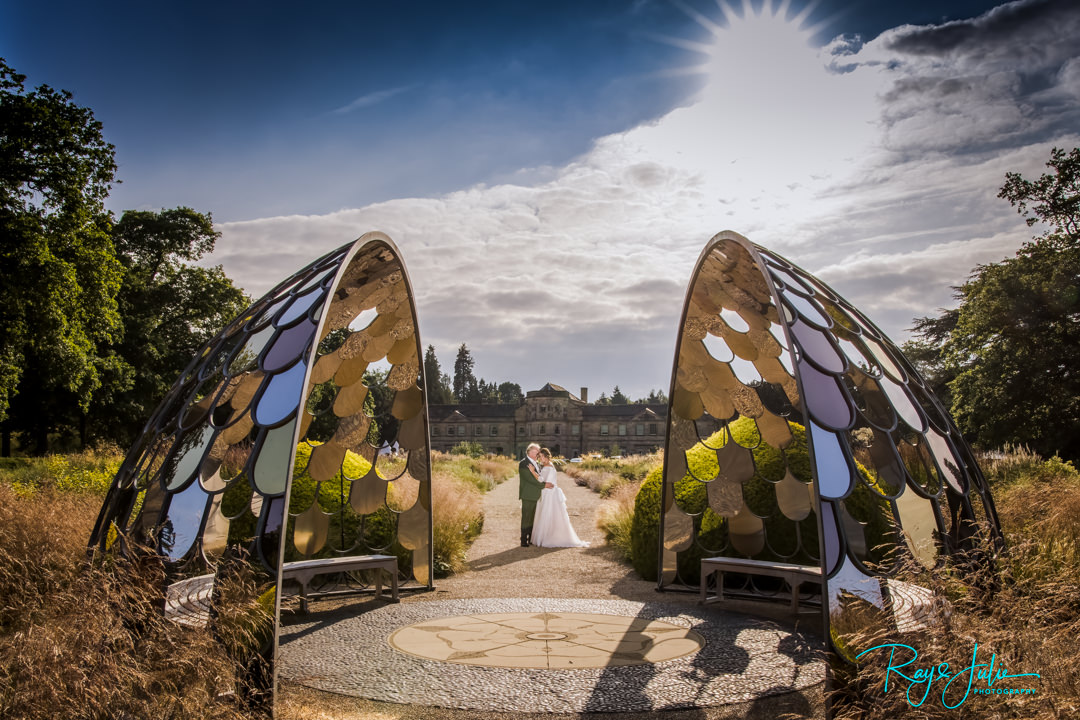 The Wedding Reception
On return from the portraits, all the guests had made their way inside for the wedding reception. The reception was held in Shaun Rankin's restaurant, our couple opted for a menu of their choice so Shaun wasn't cooking on this occasion. For the main course, Janette and Bernard very kindly ordered Julie and I the Beef Wellington Langley Butter Fondants, Wild Mushroom & Bordelaise Sauce. For dessert we had Baked Madagascan Vanilla & Pistachio Cheesecake Yorkshire Rhubarb Sorbet. Both servings were truly delicious.
The room looked stunning and the table decoration were something else. All the guests clapped and cheered and welcomed our lovely couple in. Janette and Bernard's cake was crafted by Dominique of Poppy Pickering Cake Design and looked and tasted amazing.
The beautiful resin named coasters from Wind & Ice.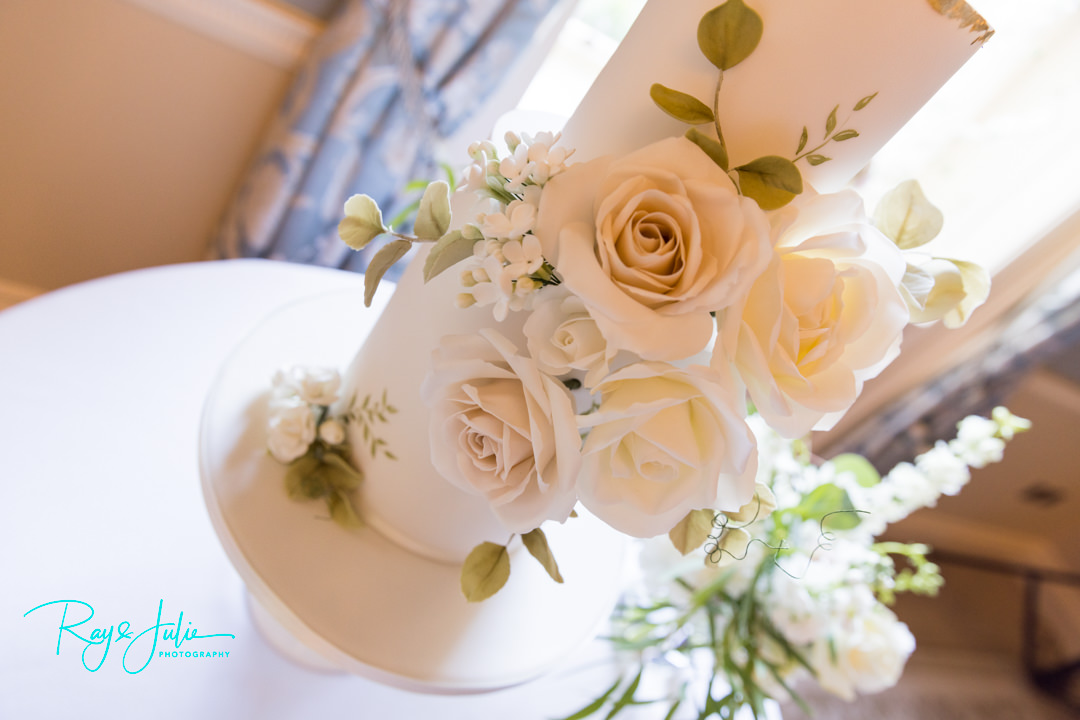 The Singing Waiter
Janette had kept a burning secret, only a chosen few of us were aware of what was going to happen. After the speeches, one of the waiters who had been working all day during the wedding made an announcement… That it was his first day working at Grantley and it was a tradition that he should sing.
Do you recognise him from The Orchard?
Well, he's a singing waiter from The Best Singing Waiters. We've never seen an atmosphere in a room change so quickly he was amazing and it was so much fun. Well done Janette and Michelle for organising.
Janette even lead a conga!
And Finally
We would like to thank Charlotte and all the staff at Grantley Hall, as always when we're at this truly stunning hotel nothing was too much trouble. You made our day a lot easier, we're already looking forward to returning in a couple of weeks to photograph our next wedding, working alongside other great suppliers.
Main Suppliers List
Contact Ray and Julie Your Local Yorkshire Wedding Photographers about Your Wedding Photography Needs
Here's a recent blog that you might find useful about the type of style of wedding photography that is best for you. We would love to be your Yorkshire wedding photographer and deliver the portraits and photographs that you need and deserve.
REQUEST PRICES AND AVAILABILITY
Hi, let's connect up! Please fill out the form below to let us know a little bit more about your wedding day. Check to see if we've got availability for your special day etc. Julie will contact you as soon as we can.