We had the honor of being invited to Grantley Hall recently for a preferred supplier event. This event was only for a select number of suppliers that were chosen. Grantley Hall is a luxury hotel and wellness retreat in North Yorkshire. Grantley Hall has been accepted into the Relais & Chateaux family, a perfect partner for Grantley Hall. Their philosophy of making the world a better place through unrivalled levels of hospitality and remarkable cuisine mirrors the vision and values which sit at the heart of Grantley Hall.
We have to say a very big thank you to all the staff at Grantley Hall for making us feel so welcome every time. Special thanks go to Amy Brooksbank, Sarah Baines, and Nommi Fligg who at short notice allowed us to capture some images around this stunning venue.
THE EVENT
Once we had set up our stand ready to meet lots of couples on the night, we had a chance to meet lots of like-minded suppliers such as:
Naomi Stone professional make-up artist, Dawn Walsh wedding hairstylist, Anita Massarella Design Couture, Dominique of Poppy Pickering, Sally of Serendipity Floral Designs, Katie and Guy of Kendall's jewellery, Luke Howells magician, Amy Bramley of Ambience Venue Styling, Jeremy Wood Beaumont of Rhodes Wood, David Robertshaw contemporary piano artist just to mention a few.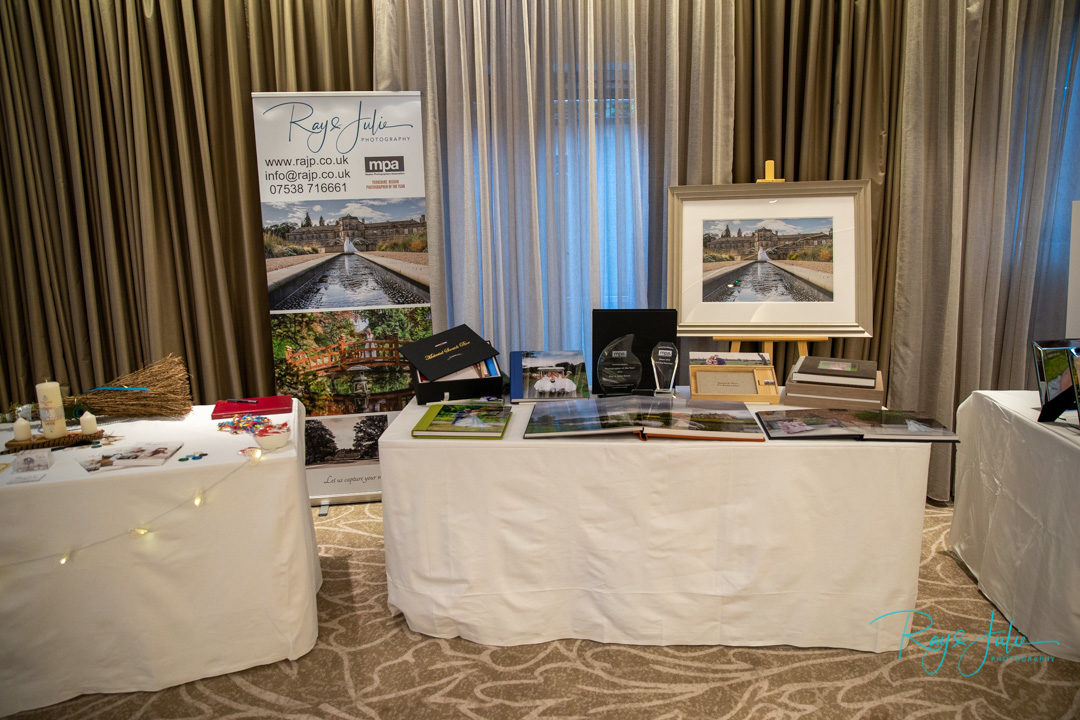 NORTON BAR AND COURTYARD
With help from Naomi, Dawn, Anita, Katie and Kelly we were able to carry out a model shoot in Grantley Hall. Before that Julie and I had a break ourselves and had a drink in the Norton Bar and courtyard.
SHAUN RANKIN
After finishing our drink we had a look around to see photographic locations within Grantley, the opportunities are endless.
This also gave us great food for thought for our lovely wedding couple Michaela and George's wedding here next year. Talking about food we met up and had a chat with Shaun in his fine-dining restaurant.
Shaun, a Michelin starred chef returning back to his home county. Aspirations for his restaurant are limitless, using only locally sourced seasonal produce from a selection of carefully chosen suppliers.
Shaun's skill and craftmanship will make Grantley's signature restaurant the new must-visit dining sensation.
THE SHOOT
We had the opportunity to take Kelly around Grantley, Kelly was wearing a beautiful Anita Massarella Design Couture Dress. Comprising of a circular skirt of pure silk chiffon, a bodice of ruched silk chiffon and beaded French Chantilly lace.
The jewellery from Kendall's worn by Kelly was 18ct White Gold Diamond and South Sea Pearl Collar Necklet. 18ct White Gold South Sea Pearl and Diamond drop earrings 0.25ct of diamonds and a Platinum Round Brilliant. 5ct Diamond Solitaire Engagement ring which we think all perfectly works on Kelly in the gorgeous wedding dress.
A very big thank you to Naomi, Dawn and Sally for doing Kelly's makeup, hair and flowers.
A really big thank you to all involved with the shoot. Thanks to the staff at Grantley Hall for their help. Julie and I are looking forward to capturing our couples memories at this stunning venue x
If you would like us to capture your special day or would like to check if your date is available